Global Assistance Live Traffic Info
Continuously updated data displayed on a map saves drivers time and money
Continuously updated data displayed on a map saves drivers time and money
For instance, the latest radio traffic news, or "Green Wave", draws on the extensive database of Global Assistance. How do you efficiently process this information in real time and make it clear to motorists and drivers? Discover how Mapotic handled the visualization of the current traffic situation throughout the Czech Republic.
The main benefits of Mapotic Map:
Using existing data to improve the quality of the client's services

Creation of processes to control and standardize various data sources into a single output

Integrated web map and mobile app

Linking to external services and strengthening partner ties
Global Assistance offers comprehensive assistance services to motorists throughout Europe.  They cooperate with a number of insurance companies, and their services include mapping the traffic situation in the Czech Republic.
The company works with a vast database of daily updated traffic information obtained from various sources of information, including aerial monitoring. To maintain efficiency, Global Assistance had to publish this information automatically on a company map in order to meet the needs of partners and motorists.
"We use an airplane to monitor the traffic situation in Prague. We also get some data directly from the traffic police. Mapotic has managed to control these variables into clear outputs and is a reliable partner for us. "
Jiří Machovec, Global Assistance Traffic Information Director
Objective of the project: Deliver processed real-time data from various sources to users
Global assistance approached us with a project that required visualization of thousands of daily updated records that had to be presented on a map. The main goal of this project was to make information easily accessible to drivers and motorists.
Mapotic's task was to use existing data sources and unify them into a comprehensive, constantly updated output for presentation on the company website. In order to create a system that processes this information in real time, displays it on the map, and automates the whole process.
Another interesting requirement was to implement a map with fuel prices from more than 2,000 petrol stations throughout the Czech Republic that are regularly updated.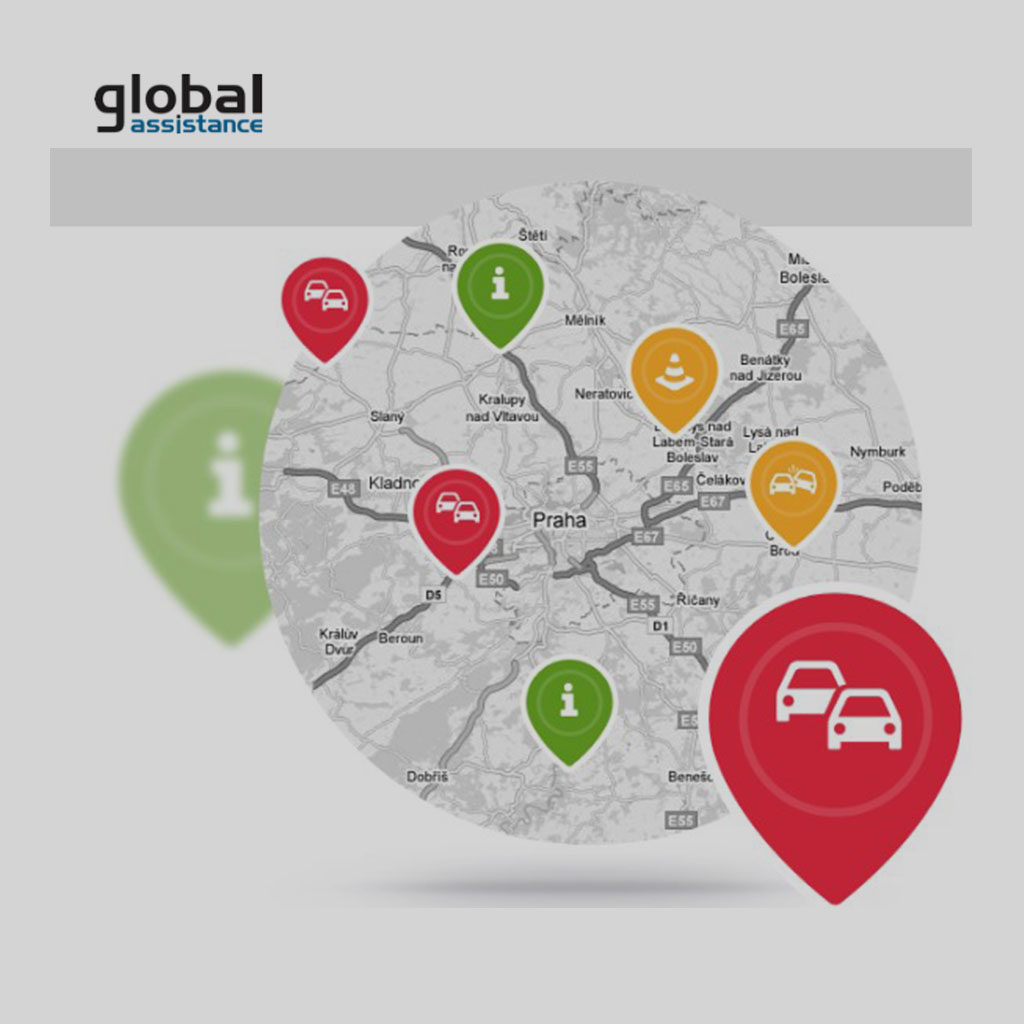 The challenges we faced in the Global Assistance project
Implementation: Converting diverse data into a single map
The solution was to automate the process of publishing data to an online map on the Global Assistance website, which uses existing data and is a useful tool for every driver and motorist.
Clear display of updated fuel prices and current deadlines throughout the Czech Republic
The result: Comprehensive information services for partners and motorists
By using the Mapotic platform, Global Assistance has enriched its website with constantly updated information. It provides better service to motorists throughout the Czech Republic.
In addition to better visibility and PR, the map also forms another source of visits and new customers for the company's partners.
2 maps designed to be integrated into a business website homepage and a mobile app

Over 2,000 petrol stations with fuel prices updated several times a week

Hundreds of daily updated points with closures and other traffic information