Before Mapotic, we had a different mapping solution, but it was complex for our patients to use, and costly to develop and maintain. In terms of community growth, a major influence was linking up with Mapotic, which works on desktop, as well as Android and iOS devices.
Lucie Lastikova, Communication and PR specialist, WC Kompas
Inflammatory bowel diseases can be debilitating, embarrassing and difficult to both diagnose and treat. Some flare up periodically in reaction to stress, food or illness, while others are a constant challenge to a sufferer's daily quality of life.
"Every one of us has found themselves in a situation where we needed to find a public bathroom. Healthy people do this once in a while, but patients with chronic intestinal complaints face this discomfort much more often, even several times a day," explains Lucie Lastikova, communications manager of IBD Patients. "Although the online toilet map in mobile and desktop versions makes it easier for people with inflammatory bowel diseases to move around, everyone can use it. For example, people with disabilities, mothers with children or seniors."


Patients IBD is a Czech-based NGO focused on both raising awareness about chronic inflammatory bowel diseases and reducing the time it takes to be diagnosed. Founded in 2008, Patients IBD was first aided by a working group of specialist doctors focusing on idiopathic intestinal inflammations at the Czech Gastroenterological Society. Since then, Patients IBD has been helping patients with Crohn's disease and ulcerative colitis to manage their daily struggle.
One of Patients IBD's major projects, WC Kompas, is about mapping every publicly accessible toilet in the Czech Republic. And it's here that Mapotic is stepping in to help.
Path to nearby help
For Patients IBD, it's all about building awareness and improving patients' access to bathroom facilities in the Czech Republic. Now, Mapotic's mapping solution means that discovering nearby facilities is only a click away.
"With the WC Kompas project, we decided to map toilets in cities, villages and other locations," says Lucie Lastikova, communication and PR specialist for WC Kompas, "because it can be quite problematic for sufferers to find clean toilets nearby."
To raise awareness, both about the organisation itself and often-misdiagnosed bowel conditions, Patients IBD conducted an intensive PR campaign, promoting its new mapping and crowdsourcing project – Patients IBD.
The organization already had an existing mapping solution built by a web agency, however it was far from ideal. The need for developers meant that updates were both slow and expensive – an issue also faced by many other mapping platforms.
To help solve the challenges they faced in term of turnaround time and cost, WC Kompas connected with Mapotic. In return, the Mapotic team consulted extensively, analyzing what it would mean to migrate to Mapotic platform. "We transferred our data into Mapotic and our communities served started to grow. For example, extending to mothers with children and people just travelling through the city. Our goal is to map every toilet in the Czech Republic."
The shift to the Mapotic platform has since helped accelerate the onboarding of thousands of new users and attracted great attention from both media and sponsors. More than that, with the new website and mobile app powered by Mapotic, all WC Kompas' information is just a click away – the entire WC database can now be in every patient's pocket, making an amazing difference.

Challenge
Even though 50 000 patients have already been diagnosed with IBD in the Czech Republic, a significant number remain without the correct diagnosis. Right now, according to official statistics, proper diagnosis can take between 2-8 years, Patients IBD notes – a staggering amount of time. The organization wants to see that time contract significantly, hoping that one day, patients can have a correct diagnosis within 2 months.
"For our community, it's important that patients have a way to bond, share their experiences and exchange information. For us, sharing correct knowledge is extremely important," Lucie notes, referring to the organisation's strong focus on open data. "It's important to find and share information written by doctors and professionals. Sharing experiences and knowledge is great, but there must be guidance to make sure that the right knowledge is being spread. A publicly accessible and contributable mapping platform is a great tool helping with this and involving more people in our mission."
Recently, Patients IBD has been on a drive to increase the number of bathrooms open to patients even further. WC Kompas has been the main tool aiding in the fight for improved access.
Lucie continues: "We have been talking to both government and municipalities, restaurants, as well as government offices such as post offices as part of our mission to have more toilets opened to patients. We have seen some major successes, including with the Czech Police, who have opened their bathrooms to anyone holding a WC card (a special made available to IBD and othert patients). In terms of progress, we can see that the number of facilities is growing, and feedback from patients has been good."
The aforementioned WC cards, patients suffering from a non-specific intestinal disease, irritable colon, stomach, celiac or a postoperative bowel disorder can all benefit from it. Its presentation helps patients gain faster access to public and private toilets, as its use links into partners who have voluntarily agreed to accept the card. Toilets that patients can access free of charge with their WC card are specially labeled on the map, providing easier access and assurance for patients.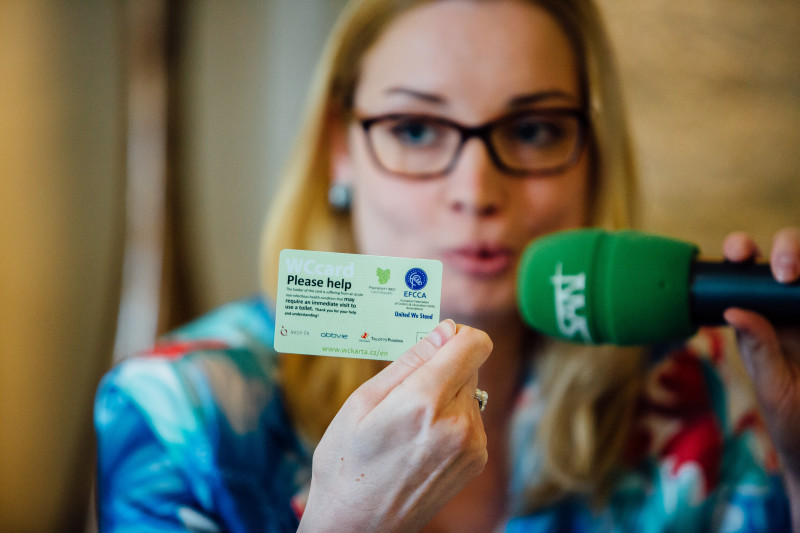 Besides that, WC Kompas is keeping track of a range of indicators to measure their success. The organisation also co-operates with a number of other organizations in both the non-profit and commercial sectors. Maps help provide visibility to these organizations, while also helping them to showcase the results of their efforts. However, for WC Kompas, feedback is highly patient-focused – the organization concentrates on patient outcomes and the fight to make a difference.
Solution
For Patients IBD, a crowd sourced digital map with open data was the right choice. "In terms of community growth and major milestones reached, a major one was linking up with Mapotic, which works on desktop, as well as Android and iOS devices," Lucie notes.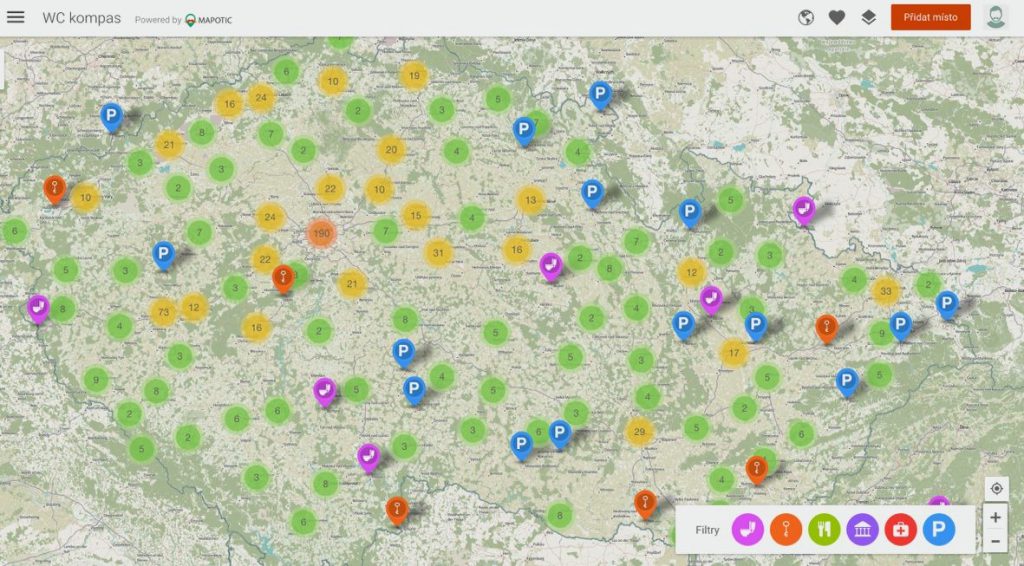 WC Kompas has grown into one of Mapotic's most active communities, seeing 5-10 new places added by users each day and showing huge potential of crowdsourcing. The mobile app is a great facilitator for the community's growth, as is the promotion, community curation and connection to crohn.cz, an information and support service for patients.
Results and benefits
With Mapotic's help, WC Kompas is beginning to attract the attention of some major players in the pharmaceutical industry. Recently, the organisation entered into a co-operation agreement with pharmaceutical manufacturer Walmark. The company is providing WC Kompas with sponsorship in return for unobtrusive, educational messaging promotion on both the homepage and splashscreen on the Mapotic app.
In future, with Mapotic's help, Patients IBD wants to get even better care and access for patients, to raise more awareness and continue to share data with other projects through Mapotic's built-in feature enabling map owners to switch on open data sharing to external projects.
For Patients IBD, the fight for better, faster diagnoses and accessible treatment is ongoing, but help is at hand – and feedback from users proves it's all worth it. Patients IBD community is a vibrant one, willing to share knowledge, experiences and advice. Together with Mapotic, WC Kompas project is able to facilitate this through the engagement in map, contributors talking directly with visitors through the places or on social media, with anyone who is searching for answers and solutions. With the ambition of connecting with projects outside the Czech Republic, and adding further content from international counterparts, it's a project set to touch thousands of lives.
Keen to learn more? Great! Watch our promo videos showcasing the project:
| | |
| --- | --- |
| Community | WC Kompas |
| Mission | Help patients with Crohn's disease and Ulcerative colitis to live a better, full life. |
| Size | 5 000+ active users |
| Spaces | https://www.mapotic.com/wckompas |