At the end of 2018, we launched a revenue model which enabled community leaders to use their insights and knowledge to develop their own branded app. Based on our conversations throughout the year with a number of leading authorities and industry experts, it became apparent that there was a gap in skill sets which could help launch their mission.
At Mapotic, we provide map owners with the technology and expertise which would allow their project to continue unimpeded, translate their insights to an app, and best of all, ensure that it is cost-effective and a win-win for both parties.
Speaking with influencers within the travel sector, we confirmed that a branded app or an authentic local map guide could offer a richer experience and much more value than a static page on a travel website, or outdated book. This would be even more effective if the authority or community leader driving the project is someone who lives and breathes the topic on a daily basis.
"Mapotic provided Koh Phangan with a platform for locals to add and review their favorite spots without the overflow of misleading reviews from other sites like Tripadvisor."        Matt Young, Phangan Explorer
The Phangan Explorer Guide initially started as a map on our site. The goal of the map was to provide a hub which would chart various activities and events around the Thai island of Koh Phangan.
Map owner, Matt Young, had already been living on the island for two years and owned a hostel. The demand for an easily-accessible map became apparent for him after noticing that the popular guides failed to accurately capture many of the island attractions.
Matt felt that given his unique position and local knowledge, a map (and later, an app) would be an effective way to communicate his informed opinion to interested travellers. Publicly available resources were relatively sparse in this respect, and those that offered suggestions were older publications with little 'fresh' content to add to the subject. The authentic local guide which we explored with Matt would include restaurants, best bars, landmarks, waterfalls and natural places of beauty that weren't necessarily well-known. We also discussed a possible gamification element enticing users to contribute and engage with the content. This is something which might come in a later stage of our cooperation. We embedded the map on the Phangan Explorer website to gauge user interest and showcase the power and flexibility of the solution. Matt was happy with the end result, and coupled with feedback from his clients, decided that creating a downloadable app would be a suitable next step. This would also help provide a certain level of comfort for map users who could enjoy the offline capabilities, especially if faced with internet connectivity issues on the island. Without the technical expertise but having the enthusiasm and knowledge, the Mapotic team filled in the missing piece and helped Phangan Explorer. We created an app within two weeks for a fraction of what a custom-development build would typically cost.
Initially, we worked with Matt and his team to sift through their data and used gSheet templates to capture what they wanted to appear in the app (including links to images – all of which Mapotic is able to import).
"With the explorer's guide, travelers instantly know where all the most visited locations are, and can add their own experiences to the app!"
Matt Young, Phangan Explorer
We're delighted to say that the app, complete with content, was completed using React Native technology and is now a key component of their business model. This, compared to traditional custom development which could take months, is a significant improvement and is now positively enriching the experience of travellers to Koh Phangan.
Beside showing interesting places on the island, the app is also used to promote Phangan Explorer hikes, excursions and promote further services.
But it doesn't stop there..
As more people download the paid app and contribute their own content, Matt can employ more uses of the tool. Additional revenue streams through affiliate partnerships, in-app purchases, Google AdMob and various other financial resources are effectively unlocked as interest in the app continues to grow. Matt is able to pin important messages to the top of the newsfeed which can alert returning users and inform new ones about items he wants to highlight. There is also the ability to communicate important information or events on the island.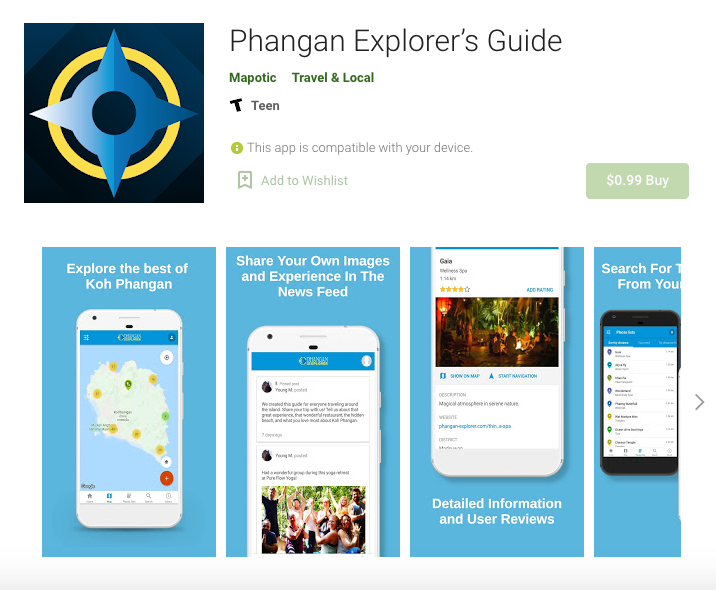 As Mapotic's features evolve, so to does Phangan Explorer. A lively newsfeed to connect travellers through the app, picture and video sharing options, and other add-ons are on the product road map for 2019. As we improve the app we are able to push new features to the current version. Mapotic's team of developers continue to push what is possible, advancing new features, developing new apps that marry the technological possibilities of our solution to the map owner's vision. We are open to talk about partnerships where you – the informed expert – provide knowledge of a certain area (or specific market segment), while we – the tech team – provide the tools to help generate a profitable project that is mutually beneficial for both parties.
If you interested in a similar solution, please don't hesitate to connect with us!
Phangan Explorer is available via the App Store and Google Play.
To learn more about creating your own custom app, you can visit our App Page.