There is untapped potential hidden in the geolocation data and in the new ways of using it. By simply displaying static data in a map, we get a new context, and a combination of various freely available datasets or user engagement gives us options that we couldn't imagine before.
A state is without a doubt the largest data collector which is trying to gradually open them to the public for further use. However, new datasets are created every day even at the private sector level or in projects of enthusiasts, and if you're among them, it may be worth considering whether your data – in a structured form – couldn't be opened to others or on the other hand you can enhance your project with existing data.


Because we at Mapotic love and support everything that is open – from open mind and opensource software to open Club Maté, we want to share some examples of how open data can be used in maps and what can happen to data when you offer them to the public or to a specific target groups as you can drag them into the game that way. And maybe someone will get inspired by it, whether you are a map owner, an open data lover, a programmer, or a clerk who has to manage data.
The first map project in which the concept of "open data" was applied was: Vozejkmap. Today, the largest online database of barrier-free places in the Czech Republic (with eight thousand places) was created as a copy of the crowdsourcing project Swimplaces, we've modified the system, created new mobile apps, and in the records of places we used the attributes needed to map places for people in a wheelchair.
After a successful start of the project, the opportunity came up through the Otakar Motejl Foundation and the initiative Otevíráme data (We are opening data) to integrate functions to allow external entities to access updated daily collected data. Implementation of these functions has on the Czech Internet created one of the few "open data" non-state projects working with data collected by the public. Since 2014, based on the Vozejkmap dataset, there are 4 other independent projects that work with or integrate data into their own apps.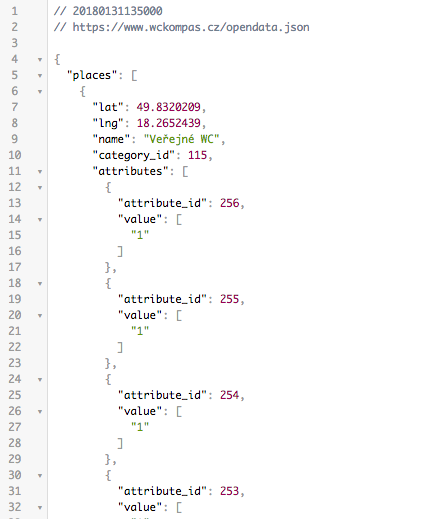 Another example is application from a similar area, this time focused on mapping of toilets called WC kompas (WC compass). At first glance map with a "funny theme" became a popular application not only for the original target group of people suffering from intestinal diseases (up to 100 thousand people in the Czech Republic).
Application was used by long-distance drivers or pregnant women; basically by everyone who occasionally have a need to find "the closest toilet." Non-profit organization Patients IBD and their application WC kompas was from the beginning trying to be socially beneficial and opening data was therefore a logical step. Dataset (more than 1500 to date) of toilets collected by the public is now available and free to use in other projects, all you need to do is simply connect to the publicly available and daily updated address on the website of the project.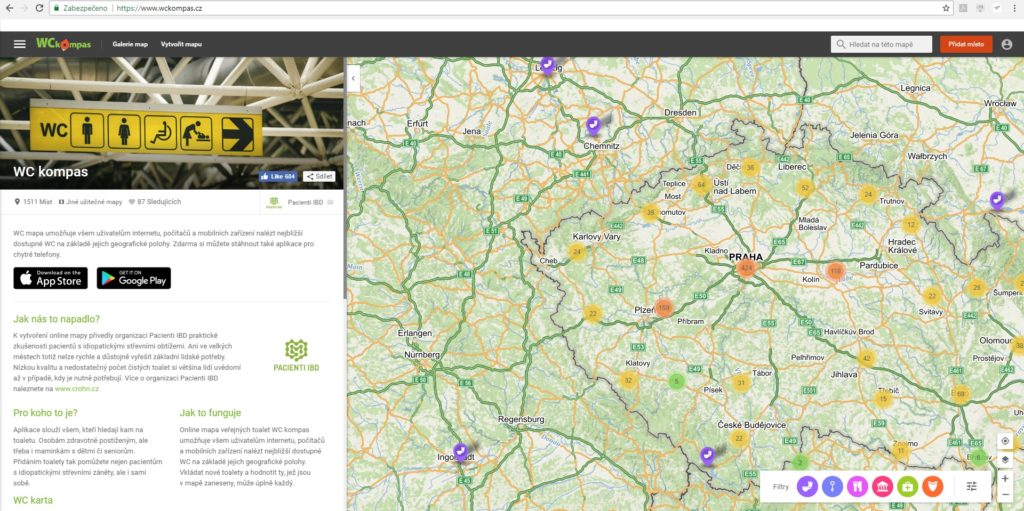 Because the Mapotic Team consists of map enthusiasts and IT specialists, of course we cannot help it and we sometimes create a custom map based on the existing dataset. Recently, we have created a map of bridges in Prague with information about their condition.
We also used the public database of kindergartens of the Ministry of Education, Youth and Sports to create a map of kindergartens in the Czech Republic. The map contains a total of 5343 places and kindergartens can be filtered according to different categories. An interesting "use-case" has also emerged thanks to the involvement of the target audience. To make sure that all the data are up to date and correct, we did send an email to kindergartens asking them to check the data. Over the week more than 150 representatives of kindergartens send us a message, updated information or they even signed in to manage the place themselves. During a very short period of time and at a low price, a new visualization of existing data was created on the map, with the data more recent than the ones that were available on the official state's website.



There are endless possibilities and there will be a lot of similar examples in the future. And it's not just about datasets opened by the state. As the Internet of Things is hitting mainstream and sensors, vending machines and minicomputers will get more and more data into the world, there will be more and more possibilities for visualization and for datasets to be put into different contexts. We'll try to make Mapotic in a way, that datasets could be easily imported or synchronized, so that the data could be easily accessible to the user. We believe that sharing knowledge and data keeps people moving forward.